₹ 2,169.00
Main Benefits Of Cute B Breast Reduction Cream :-
Reduce breast size gradually and naturally
Safe and full proof method to cut the fat of breasts
Tones the tissues and contracts the formation of breasts
Removes sagging by maintaining shape
Reduces size but keeps the fuller look
Brings feel of youth on breasts
Nourishes the skin, maintains the pinkish glowing appearanceMakes them sensitive, tender, voluptuous and appealing
100% safe and natural formulation
For International Customers
Description
Cute B Breast Reduction Cream – The Safest Alternative To Breast Surgery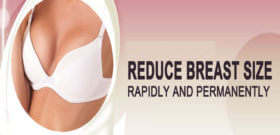 Cute B is a pure natural, all-safe cream to reduce breast size gradually and systematically. The medicine is made of thoroughly researched and tested herbs in our state-of-the-art lab by our experienced specialists, in the bright guidance of Haqeem Hashmi ji. The medicine is the result of modern medicine processing and ancient natural methodology. Cute B cream works on the breasts in the most soothing manner and the results are very effective.
This cream is especially beneficial for all those women and girls who face problem in daily life due to their unordinary big breasts. In real world, big breasts not only look odd from appearance point of view but also bring various problems for women like pain in shoulder or back, uneasiness in running, climbing, or wearing body fit dresses.
Use this cream to reduce your breast size conveniently and economically with Cute B breast reduction cream. You have to just apply the cream on the breasts every night and it works itself for the cause. Within two to three months time, you will get shape that can easily fit in small bra with ease. Besides, you will also feel that firmness and erotic feel which was absent due to fatty unshapely size.
Why To Reduce Breast Size?
Breasts come in the main beauty aspects of a woman. It is seen as the source of love and tender feelings. The more beautiful it is, the more desires your love partner will have for you. It is obvious and psychologically proven. Men are obsessed with breasts beauty. Besides, who don't want to look good and attractive? Those fancy and thin-lacy dresses give dramatically charming appearance when your bust size is as per your figure. On the other hand, it is also the sign of good health and right body growth.
Causes of Big Breasts: 
Pregnancy
Oral Contraceptive
Menstrual Cycle
Menopause
Hormonal Changes
Fibrocystic Breast Changes
Weight Gain
Medication
Genetics
Inflammation in breasts
Drugs
Alcohol and Smoking
Cute B Cream To Reduce Breast Size:
Cute B cream is the most result oriented method to reduce breast size methodically. This cream is made of those precious herbs which are tested on different aspects of safety, effect and body suitability. The cream is the easiest and safest approach to reduce breast size as you do not have to worry about the swallowing capsules. The cream is so soft on the skin that it feels like nothing after 5 minutes. You just have to massage your breasts slowly and gently till it is absorbed by the skin.
Big breasts are mostly made of fat and loose tissues. It makes the breasts look unformed and expanded. The cream works to cut this fat which helps in curbing the shape and size. The second important work of cream is to tone the tissues of breast. It works to further curb the size, reduce sagging and brings the natural genuine form of breasts. After the complete course, the breasts become firm, curvy, and toned.
Cute B breast reduction cream is a proven formula, already confirmed for results by various users. The herbs of this cream work on multiple aspects. It balances estrogen levels and increase blood circulation to body to increase activeness and sensitivity. As the blood circulation and supplementation of good elements in breasts increases, the skin glows with pinkish feel. It improves the overall appearance of breasts.
Ingredients:
Aloe Barbadensis Leaf Juice, Vitamin A, Retinol, Ginkgo Biloba Extract
Precautions –If you have a baby for breastfeeding, then don't use the cream. If you are already using any other breast reduction medicine, then first contact our specialists regarding cream. If you are pregnant, don't use the cream as the hormone levels changes rapidly in that phase.
How to use the medicine: Take cream equal to pea on your finger tip. Now apply it on the whole breasts and massage lightly in circular motion from arms area to cleavage touching lower breasts area. Do this before going to bed in night or you can select a time as per your choice but give proper time for the massage.
Quantity and Course duration: The course duration of this supplement ranges from 2-3 months maximum depending upon the case.
FREQUENTLY ASKED QUESTIONS:
Q: What are the main concerns that I should take care of ?
Ans : Cute B is a natural supplement, tested on all fronts of safety. So don't worry about any concerns. But while using this cream, don't use any other supplement.
Q: Is body fat and breast fat related?
Ans: Yes. If you become overweight, your breasts will also most probably gain size. It is because of the disbalance of estrogen which increases storage of fat around breasts. To keep yourself healthy and fit, you should always try to maintain your weight.
Q: How soon would I see the results?
Ans: The results would take some time as it is a natural formulation but you would feel the difference in the firmness, build up and skin toning of breasts, which are the signs of improvement.
Q: How long the results last?
Ans: Your body is your preference. The medicine is a natural breast reduction treatment which means it changes the appearance by changing the factors but you have to take care of your lifestyle, clothing habits and diet to maintain the shape and size.
Q: How can I order for Cute B cream breast reduction cream
Ans: You can order for this cream online or by phone. The product will be dispatched in the discreet package without any name of product or manufacturers. You will be coordinated to ensure that the product is delivered in your hands only.
Reviews
I am 34 years old housewife and had too large bust size. I used this cream for approx three and a half month and reduced about 3 inches. I also did some weight losing efforts to control my body fat.
They call it a supplement but I call it the treatment. It saved me from painful surgery. I was about to go for that when I decided to give it a try. It worked out and I am contained with results
Not that good but yes, I got toned breasts. It was bit helpful for me.
Cute b was helpful for me. I suggest that you also take care of your diet and do some exercises. It helps for faster results as this is natural medicine.
Cute B is exceptionally surprising cream. So soft and so good on skin and it absorbs quickly. I got expected results. Thanks Hashmi ji.